Selesa. Berehat. Keseronokan
Leisure . Relax . Fun

休闲 . 放松 . 玩乐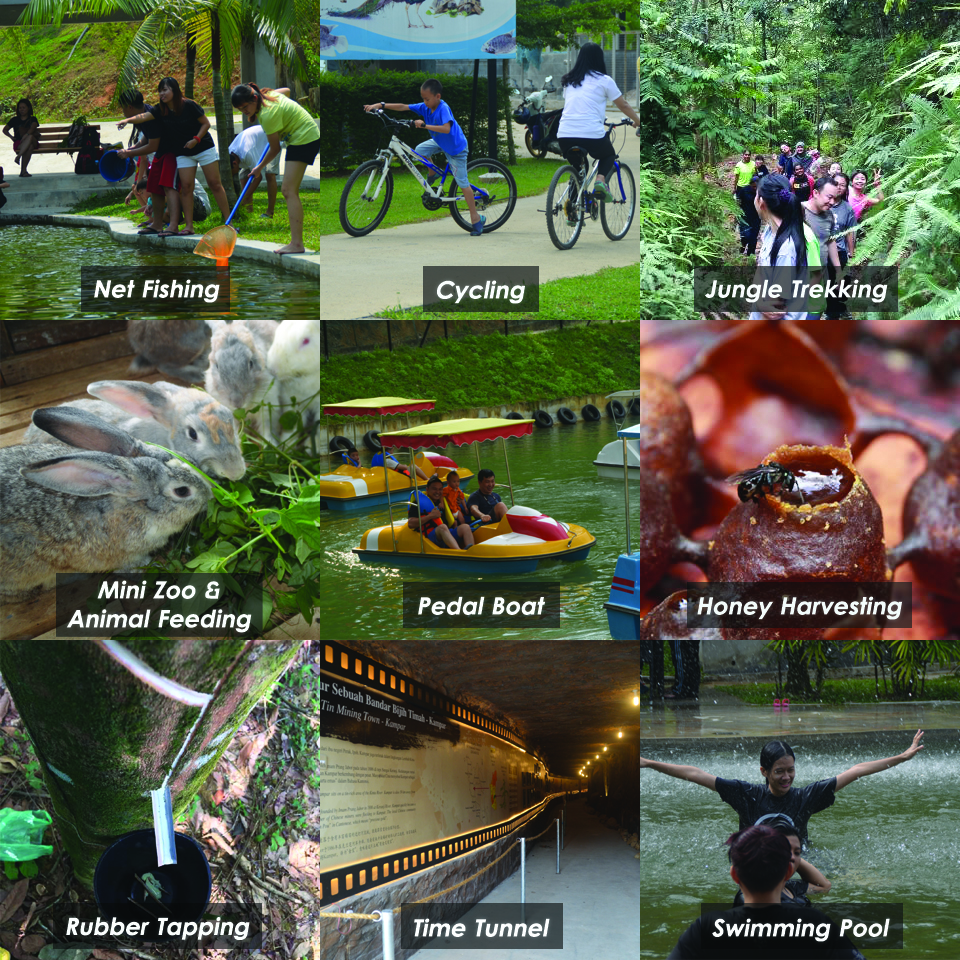 绿坊Refarm 秉持着休闲的理念出发,就是为了让活在紧绷生活的你可以松懈下来,好好品味金钱所买不到的农庄生活体验。于是,在绿坊Refarm,我们为你和家人及朋友准备了一系列的活动如下:
Refarm's objective is to provide a place for you to unwind yourself from the stressful urban lifestyle, and experience the farming lifestyle which money can't buy. So, here we are, we have a series of activities for you and your family and friends to consider:
Objektif Refarm adalah untuk menyediakan tempat untuk merehatkan diri daripada gaya hidup bandar yang penuh tekanan, dan mengalami gaya hidup pertanian yang tidak boleh dibeli oleh wang ringgit. Jadi, di sini kita, kami mempunyai satu siri aktiviti untuk anda dan keluarga anda dan rakan-rakan yang boleh dicuba:

1. 老少咸宜:

戏水池
骑脚车
种植有机蔬果
捕鱼
喂食鱼,鸡,羊,兔子,乌龟和鹅
放风筝
跑步
脚踏船

2. 爱探险的你,或许很想探讨一下绿坊Refarm以外的世界:

徒步森林
到瀑布摄影
了解多种热带雨林的植物和树木

3. 探索金宝:
你也可以到距离只有4公里的金宝市镇,探索其极富盛名的地道美食。

1. Activities for All Ages

Paddling Pool
Cycling
Planting organic vegetables, and fruits
Fishing
Feeding zone: fish, chicken, goats, rabbits, turtles and swans
Flying Kite
Jogging
Pedal Boat

2. Activities for the You who are Adventurous:

Jungle Trekking
Photoshooting at the Waterfall area
Explore varies types of plants and tress of the rainforest

3. Explore Kampar:
You can explore the Local Delicacies in the Kampar Town which is just 4 kilometers away from Refarm.

1. Aktiviti untuk semua usia

Kolam mandi
Berbasikal
Penanaman sayur-sayuran organik, buah-buahan
Memancing
Pemakanan zon: ikan, ayam, kambing, kuda, arnab, kura-kura dan angsa
Permainan layang layang
Jogging
Boat Pedal

2. Aktiviti bagi Anda yang mencabar:

Jungle Trekking
Bergambar di kawasan air terjun
Menjelajah untuk melihat perbezaan jenis tumbuh -tumbuhan hutan hujan

3. Meneroka Kampar: Anda boleh meneroka Makanan tempatan di Bandar Kampar yang hanya 4 kilometer dari Refarm.